Wafer Thinning & Dicing
Wafer Thinning & Polishing
CORWIL specializes in ultra-thin precision wafer thinning and polishing down to 25 microns. CORWIL routinely handles bumped wafers of wide-ranging bump heights and pitches and stocks a diverse assortment of front side tapes to provide the best protection for your wafers during processing.
Wafer grinding can create significant subsurface damage which can cause wafer damage when grinding is used to make wafers very thin, e.g. < 100 microns. CORWIL's dry polishing service removes much of the subsurface damage to enable safer die handling and yields.
Wafer Dicing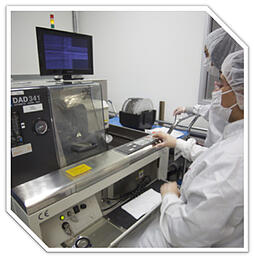 Fully Automatic World Class Disco Wafer Dicing systems handle wafers ranging from fragments to 300mm diameter. Wafer cleanliness is maintained with surfactant injected into the DI water system and ESD is eliminated with CO2 bubblers and anti-static ionized work stations. Our experienced operators can take your multiple die type wafers with complex dicing patterns and save all dice or sacrifice some to retrieve the most important.
At CORWIL, no two customer products are alike and each product wafer will be diced with specially customized program parameters to minimize yield loss. Our narrowest cut line can be as low as 15 µm. CORWIL's engineering research has isolated 40 root causes of die chipping, which causes low die strength and poor yields. CORWIL's ability to dice with parameters optimized to each individual customer's device has led to CORWIL's success and technical leadership in the industry for chip-free, high-volume wafer dicing.
Dice Before Grind (DBG)
CORWIL has developed proprietary techniques to allow for the safe singulation of IC devices from a wafer that has been ground very thin (as thin as 25 microns). The DBG process is principally used for singulating IC die when normal sawing would create unacceptable levels of chipping and edge damage.
Die Attach Film (DAF)
CORWIL is one of the first companies to adopt Die Attach Film (DAF) in its wafer/die singulation process. This allows dice to be die-attached directly onto the leadframe or substrate without epoxy adhesive dispense. CORWIL also has a die chipping monitor which can be implemented to monitor yield on a real time basis. These and many other processes are available to reduce manufacturing cost and yield loss for customers.
Materials
Materials processed at CORWIL include Silicon, GaAs, Sapphire, Quartz, SiGE, Laminates, Piezoelectric, Glass, and other materials.
Die Preparation
CORWIL's Die Preparation Services include:
Pick & Place
Automatic pick and place is available to place dice in:
Waffle Packs

Tape and Reel (paper of Surf tape)

GelPack
Manual pick and place is available for:
Die-sensitive

Topside handling

Unpassivated

MEMs

Ultra-clean processing of optical or image chips

Die picking from wafer maps
Individual die I.D. recording is available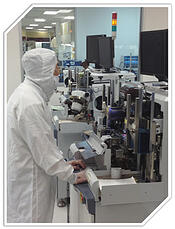 Die Inspection
CORWIL offers automated and manual visual inspections to commercial, MIL-STD-883 (Class B or Class S), and Medical Electronics specifications.
Automated inspection using the lates August Technology and Camtek systems

100% visual inspection (high and low power) is available to the specifications you need

All operators are trained and certified to commercial, Mil-STD-883, Method 2010 Cond A & B, and customer specific requirements.
Quality & Service
Each order is entered on a custom traveler generated for each customer's specific requirements allowing for flexible process flows.
High Volume
CORWIL processes tens of millions of dice per month and is the leading provider of wafer sawing and die visual inspection services for the leading heart pacemaker, RFID, hearing aid and defibrillator manufacturers.